Page Slugs to Avoid
List of slug words to avoid when setting the page URLs Heading link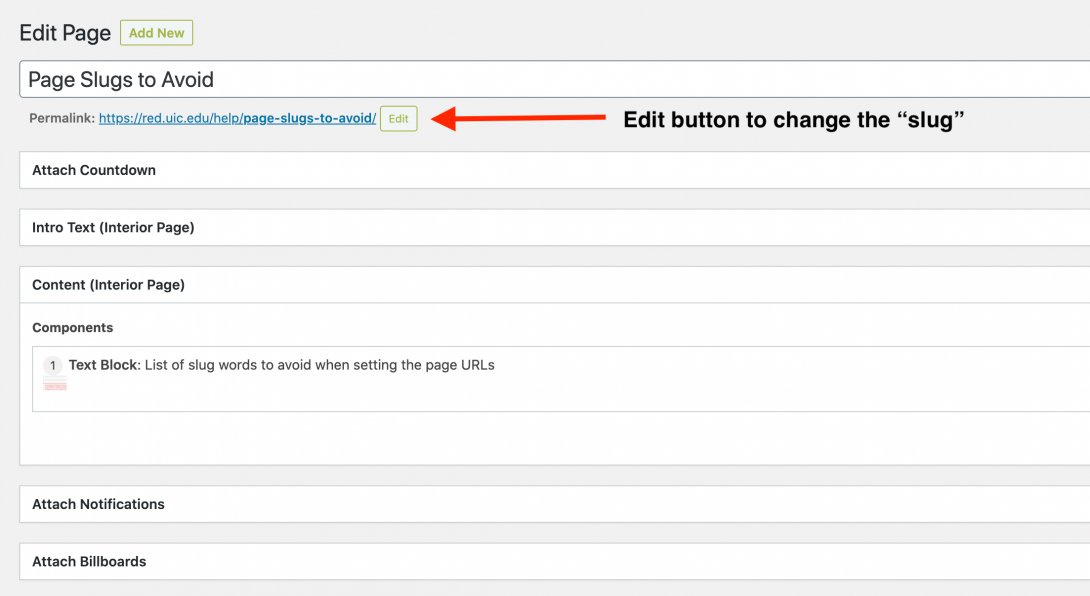 When creating a page, RED will automatically generate a slug url (in the permalink section) based upon the created page title.
We have discovered that particular slugs are causing page conflicts with the post heading names in WordPress. When the slug URL (i.e. mysite.uic.edu/profiles/) matches up with WordPress's default names for post types (seen below in the list – spoiler alert, "profiles" is one of the words to avoid) it causes a 404 error for all subpages of that slug (i.e. mysite.uic.edu/profiles/john-smith/). The subpage titled "John Smith" will display as a 404 error/page not found, while the "Profiles" parent page (mysite.uic.edu/profiles/) will still properly display to visitors.
Below you will find a list of all words that should be avoided in the slug. You can still use these exact words as a title to a particular page, just make sure to change the slug URL in the permalink section located just below the Page Title field (you can see where you can accomplish this in the screenshot above).
Here is the list of exact words/phrases to avoid in the page slug url:
profiles
events
schedule
news-stories
research
assignments
publications
limited-competition
research-projects
profile-categories
roles
practice-areas
research-areas
departments
news
help-article
The problem will only occur if you exactly use one of the words/phrases mentioned above. So, if you use the word "event" as the slug it will work, but using "events" will cause a problem.
Just to reiterate, you can still title the page as "Events" but just make sure to change the permalink slug to "mypage.uic.edu/event/" or something other than "events."
Do NOT use number only slug URLs.
Avoid using numbers only in your slug (i.e. mysite.uic.edu/12345/). Permalinks require alphabetical characters and if you only use numbers, WordPress will automatically add a "-2" into the slug. For example, if you create a page titled "1234" and publish it, the permalink will appear as mysite.uic.edu/1234-2/. Please be sure to include alphabetical characters in your permalink to avoid this issue.
Happy Editing!