13. Using Media Responsibly
Variables to Consider Before Implementing Images Heading link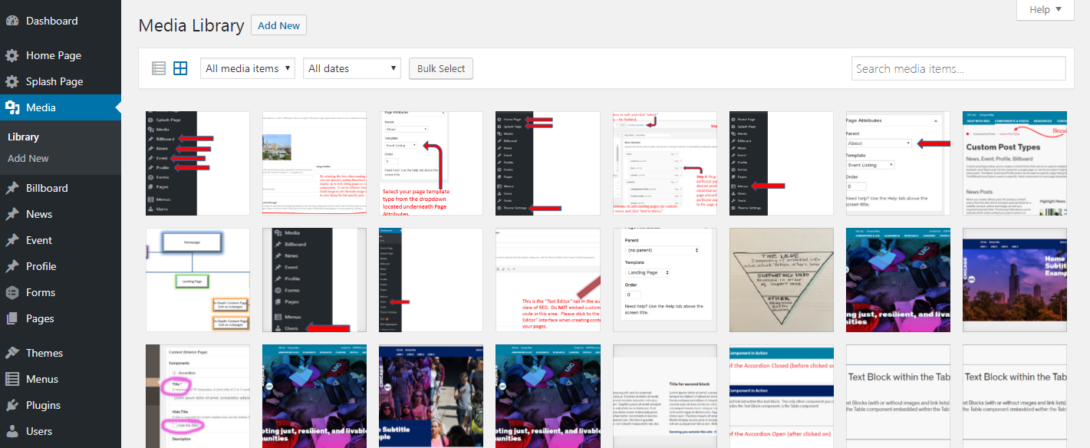 All sites have a limit of 3GB of storage on the Technology Solutions servers. Any overage of storage use may be requested in 1GB increments up to a maximum of 10GB. Administrators can view their current storage status on the CMS dashboard homepage.
Avoid uploading PDFs to your site (with the exception of CVs in Profile Posts). Instead, we suggest you create links to BOX so that your files are not taking up space on ACCC servers. Just make sure to set the privacy on the BOX link to "accessible to anyone who has this link" before copy-pasting it onto your site.
DO NOT attempt to embed videos on the site. Use the "Video Component" and simply copy-paste the URL from YouTube, Vimeo, etc. into the Video component to get a video to appear on the site.
Please refer to the pixel guidelines for each particular component/header type when uploading your respective images. Not only does this prevent RED from unintentionally cropping your images, but it also cuts down on memory taken up by the images. RED's pixel dimension guidelines can be found on RED's resource page.
It is a requirement that all images have ALT Tag keywords.  This is a requirement for accessibility purposes (screen readers) as well as a proper SEO technique.  Please refer to the Accessibility page of this tutorial for more information on implementing ALT Tags to images.