Getting started on Red
To understand what the Red Multisite can offer your department, you can browse the pages in this Help section and the Components & Posts section to see examples of what you can create in Red.
Header Types
When requesting a new site, you will be able to choose from three header types: A Full Gradient, A Half Gradient, or B Full Gradient.   These different header types determine how the top images on the site (in the homepage and all landing pages) will appear.  All header options with images have color gradients. The gradients cover top-to-bottom over the homepage (and landing pages) with vibrant colors.
Type A sites can choose between half-screen gradient on the left (and no color gradient over the right side of the image) or full gradient - covering the entire image.  Type B can only select full screen (image) gradient.  Click here to see further details on the different site types, as well as examples.
Log on to your site dashboard
When your site is commissioned, you'll receive an email with the login url. It will look something like ______.red.uic.edu/wp-admin/. When prompted, log in with your UIC netID and common password through the UIC Bluestem interface.
WordPress Basics

When you log in to your WordPress site, you will be taken to the Dashboard Home. This administrative screen gives you basic information about your site content, storage space usage, and news about WordPress. It also has the menu for the tools you will use to manage your site and users, and build pages, posts and other content types.
My Sites
If you have access to other sites on the red.uic.edu network, you will see a list of them on this page and can navigate to any site or dashboard.
Home Page
In Red Multisite, the Home Page of your website is a unique page type with custom fields and component options that you can use. Learn more about building your Home Page.
Splash Page
If enacted, the Splash Page will become the first thing a visitor sees when they visit your homepage.  Consider it like a temporary overcoat to the constant sweater of your homepage.  Splash Pages are an excellent way to alter how visitors first view your site and are quite useful marketing tools, as they can be used to call attention to a major function or event, without altering the main content of the site.  There are 3 sections to a Splash Page:
Top section which uses a background image and logo file with optional Title, link and buttons
Middle section which allows the use of 4 specific components: full size photo, text, one photo or video, two photos or videos
Bottom bar which creates the site identifier text
Splash pages can be activated or deactivated with a simple checkbox in the "Theme Settings" section of the dashboard.
Media
Media is the library where you upload and manage images, video, recordings, and files that you upload and use on your site.
Custom Post Types
Billboard, News, Event, and Profile are all custom post types that are built into Red. Each post type is designed with specific purposes in mind. The term "Post" is used to describe a distinct block of content that may include text, headers, images, links, etc. Posts can be used alone or in groups on specific page types. For example, a "News" post can appear on a News page that lists all news, or can be used in a News Highlight within an internal page.
Posts can also be categorized into different groups that can be published on different pages, for example, "All News" or "Research News" pages that only show posts in those categories.
Forms
You can create forms with basic and advanced fields that can include conditional logic which guides users through custom form fields.
Pages
If you are familiar with WordPress, you will notice that Pages are different on the Red Multisite than on a basic installation. The UIC Red theme uses mostly custom page templates and custom fields grouped into content "components" for building pages. The basic page types are Default Template which is used for the majority of your pages; Landing Page which is for the first page of the different sections of your website; News Listing, Event Listing and Directory which are used to list specific posts on a page(s); and Contact Page which can include various contact components and forms.
Menus
In Menus, site administrators and editors can manage the page navigation on the website (how pages appear – and in what order – within the main navigation, eyebrow, or footer). Unlike other WordPress platforms, there is only one theme available on Red multisite. You will not be able to add other themes.
Users, Section Groups, Tools & Settings
In the Users and Section Groups tools, you can add, delete and define users and their roles with the site to provide different authoring access levels. Tools and Settings let you import and export content and fine tune the details of your site.
Theme Settings
This is where you will set some basic site information.
Share Links: these are links for Facebook, Twitter, LinkedIn, Tumblr and Email. These links will appear in your News posts and allow site visitors to share the content of that post via the links you select to appear.
Site Contact: email, address, phone and social media links to your pages/profiles on Facebook, Twitter, Instagram, YouTube or Tumblr. This information appears in your footer.
Color Scheme: The color scheme that will appear throughout your site. See below for a preview of the four color schemes.
Enable/Disable Splash Page: Detailed above.
Google Translate: You can turn on or off a Google Translate widget for your site. The widget appears at the bottom-right of the browser screen.
Maintenance Mode: This allows you to enable a special message to appear on the site when your site is temporarily down for maintenance.
Keeping an Eye on Storage
In the "At a Glance" box in the body of the Dashboard home, you will now see a section on Storage Space which indicates the amount of space allowed for your site media files and the percent used. If you have needs regarding storage space, please contact us to discuss.
Google Analytics
When you request your site, or when you are ready to launch, you can use our contact us form to ask our team to add your Google Analytics tracking ID to your website.
URL Redirects
Use the Redirection plugin to manage your live site's URL redirects and 404s. Managed independently of redirects created by ACCC Web Services. This plugin is not enabled by default, so drop us a line if you'd like to use it.
URL SEO Tip:  Even after migrating to RED, we suggest that you continue to maintain a url previously utilized by your old site, as this will keep the site history in tact.  Site history is essential for increasing Search Engine listing placement and improving SEO.
Yoast SEO Plugin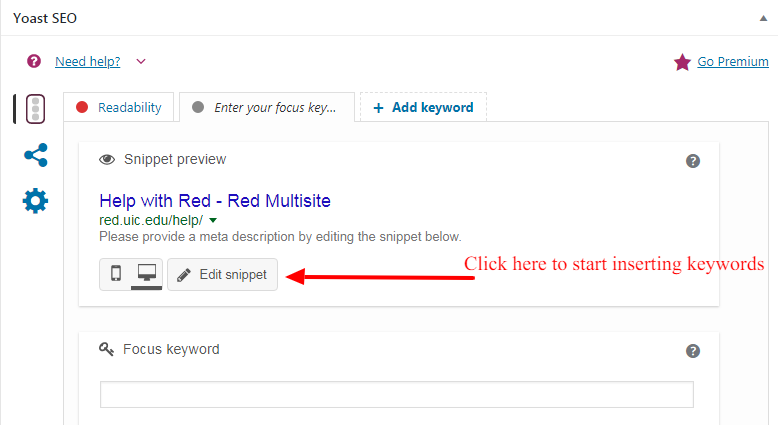 Each page of your new RED site is now equipped with the Yoast SEO plugin!  This feature allows you to embed keywords within any particular page (it is found at the bottom of each edit page screen) to better enhance your page regarding search engine listings.  Simply click on "Edit snippet" (as seen in the screenshot above) and input different keywords in the "Meta description" data field that appears.   Don't forget to update the page after you input your keywords!
Keyword (or Meta description) tips:
Be descriptive and corollary (in regards to the actual content on the page) for each keyword phrase you use.  Do NOT use generic keywords (i.e. cat, dog, mouse) as there is no way to compete with sites that have existed for over a decade with those keywords.
Separate keyword phrases by a comma.
Do NOT repeat keywords (even if in a different phrase).  Repeating words (just pluralizing the word is still considered repeating) can actually harm your SEO rankings.
Continue to input the maximum amount of keywords available in Yoast (the bar underneath the keyword entry spot will turn green when you've optimized your keyword quantity).
The "Focus keyword" data field does NOT impact SEO on the page, but serves as the rubric behind Yoast's SEO algorithmic grading (Red, Yellow, and Green) of the page's SEO.
Also included with Yoast SEO is a "site readability" which gives useful tips on how to better organize/script your content.  The readability feature can be deceived and erroneously scored based on the individual page layout, so it should be taken with a grain of salt.
Theme Color Schemes
In addition to the Blue color scheme used on this site, there are green, navy and red options which you can preview at the links below.