Your Home Page
There are two sections to your website's Home Page. The first is the Header which has two required elements: Image type (upload an image or leave as a gradient space ) and Header Image Alt text.  The Image Alt Text should describe what is taking place in the image; please resist the urge to include "picture of" or "image of" in the Image Alt Tag.  Alt Tags are required for accessibility purposes and including these phrases are redundant with screen readers. 
Also within the Homepage Header, you will find the optional Home Subtitle (which if used, will appear to visitors in large font across the right side of the image/gradient space) as well as an optional Home Body where you can input further text that will appear in the space beneath the Header Image.
The second section on the Homepage is the Content area where you can add any of the available component types. Unlike other pages, Billboard Posts cannot be added to the Home Page.
Home Page Header Section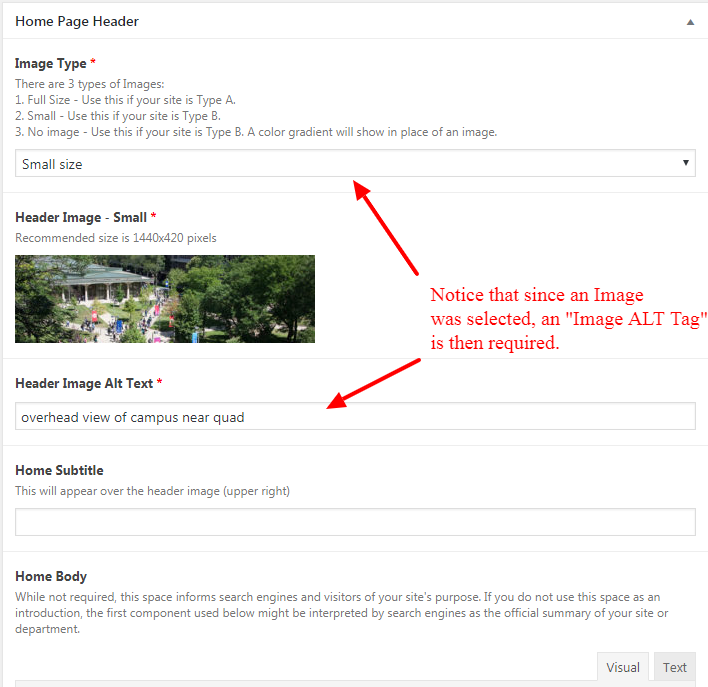 Image Type / Header Image
There are three options for the Image Type: Full, Small, No Type. Type A sites must use Full size images. Type B sites can choose between Small image or No image, in which case a color gradient will show in place of the image.
Minimum image sizes for this component are: Full – 1440 px wide x 700 px, Small – 1440 px wide x 420 px
Header Image Alt Text
For accessibility purposes, if you decide to incorporate an image in the header, the Alt Text is a required field used by screen readers.  You must write text that accurately represents content and function of the image in a few words. Do not write "image of …" or "graphic of …"
Home Subtitle
The Home Subtitle appears over the Header Image. For example, on red.uic.edu the site title is "A WordPress platform for campus websites"
Home Body
This is the introductory text below the header image.
Home Page Content Section

In this area, you can add as many content components as you would like to have appear on the page. As you create them, you can drag and drop the different components to re-order them on the page as needed.